I'm Mr. Snow Miser
Mood:
irritated
Topic: Life in General
Wow...I'm a bad blogger!!
Today, I have a rant for you..
Why is it that every cartoon ever made is being redone into a live action movie? These shows tend to be inferior copies of the originals.
Exhibit 1: How the Grinch Stole Christmas. I didn't need to know the background of the Grinch. The moral of the story is that Christmas is about being with those you love. I don't care why the Grinch hated Christmas. It doesn't add to the story. Plus, how could they remake "You're A Mean One Mr. Grinch" without Thurl Ravenscroft?

VS
Exhibit 2: Garfield, The Movie. Live action dog, CG Cat...nuf said.

VS

The latest? The Year Without A Santa Claus. UGH!!! I am so angry. This is one of my faves and they had to remake it with John Goodman as Santa. I just know they are going to screw this one up!
http://www.nbc.com/The_Year_Without_A_Santa_Claus/
Harvey Fierstein as: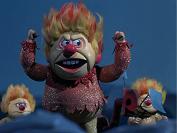 Michael McKean as: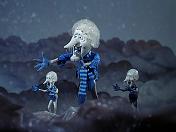 YUCK!!!!!
Posted by socialworkermi at 8:30 AM EST
Updated: Thursday, 7 December 2006 8:56 AM EST